Developing nursing research materials for Kazakhstani medical universities
Authors
Johanna Heikkilä & Hanna Hopia,
JAMK University of Applied Sciences, Finland
HELLO TEACHER! DO YOU NEED TEACHING MATERIALS ON QUALITATIVE RESEARCH OR DEVELOPMENT PROJECTS IN NURSING?
In October 2019, over 20 teachers of research methodology from Medical Universities and Higher Medical Colleges gathered at a Master Class to pilot the educational materials on qualitative nursing research and methodology of research and development projects in nursing. The materials had been developed earlier in the spring. The aim of the teaching materials is to increase the capacity of faculty staff on the content and peculiarities of nursing research in order to ensure high-quality implementation of academic nursing education. The abovementioned materials are placed on the Center of Nursing Excellence Moodle platform (http://course.nursekz.com/) for free use for all stakeholders.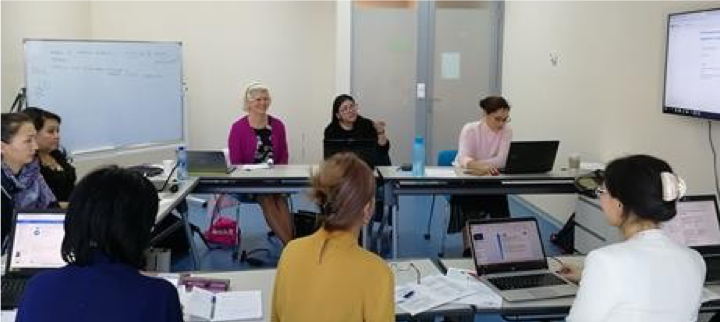 Participants from group "Research and development projects in nursing" share their ideas of how to improve the teaching material further.
AND WHO WERE THE DEVELOPERS AND TESTERS?
During the Master Class week, the experts of research from Astana Medical University, Karaganda Medical University, Kazakh National Medical University, Semey Medical University, South Kazakhstan Medical Academy, and West Kazakhstan Medical University presented the lecture materials to the participants by using PowerPoint presentations, assignments, and exercises. Experts PhD (nursing science) Hanna Hopia from JAMK University of Applied Sciences, Finland, and PhD (anthropology) Bettie Oosterhoff from Hanze University of Applied Sciences, Netherlands, provided feedback on the content, nursing science approach, and pedagogy to the developers.
To ensure compliance with the Bologna process, the level (European Qualification Framework level 7 for Master or level 6 for Bachelor) of the materials was reviewed in connection to the Kazakhstani State Educational Standards of Master in Nursing, Academic Bachelor in Nursing, and Applied Bachelor in Nursing. This was done by giving detailed advice about how and which of the materials can be used in different courses.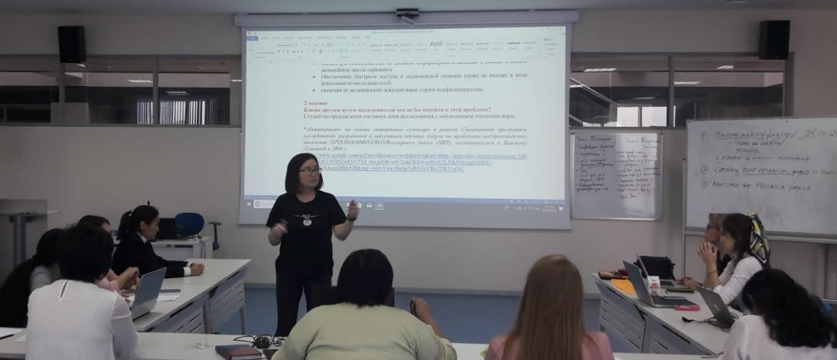 Laura Kassym from Semey Medical University is piloting research ethics material by teaching the topic to her fellow colleagues.
WHAT ARE THE CORE CONTENTS OF THE CREATED AND TESTED TEACHING MATERIALS?
The qualitative research in nursing materials covers six topics: 1) philosophical background, 2) data collection, 3) data analysis, 4) documentation of qualitative research, 5) trustworthiness, and 6) research ethics.
The materials created for methodology of research and development projects in nursing cover six topics as well: 1) definitions and difference of research and development project, 2) variety of examples on research and project designs, 3) approaches, structure and process of scientific research project, 4) development project in nursing, 5) data collection and analysis methods, and 6) ethics in research and development projects, project management.
Both teaching material packages contain sets of PowerPoint lectures, detailed descriptions of assignments, and exercises. A list of suggested nursing research methodology articles and books are also included in both material packages.

A picture of the Moodle online environment
WHAT ABOUT THE BENEFITS OF COMMON TEACHING MATERIALS?
The participants considered the developed materials very useful as many of the teachers were not familiar with nursing research methodology nor had experience of working in developmental projects. The materials will harmonize the quality of teaching and increase its relevance following international standards.
All materials are available in Russian for the Kazakhstani educational institutions. Please contact project director Johanna Heikkilä for access to Moodle.