Best practices on research collaboration in nursing
Authors: Heikkilä Johanna, Senior advisor, JAMK University of Applied sciences
Kuanysh Zhuldyz, Public Relations Specialist, Karaganda medical university
Health problems are becoming more diverse and worldwide. Nurses have a significant role in resolving these and caring for patients. Due to the complexity of the health problems and the issue that the approaches to solving them are not always standardized, there is a growing need to link education, research, and practice to promote the use of evidence-based data in practical settings.
To engage in evidence-based nursing practice, medical universities' nursing faculties must be familiar with the research processes and current nursing research topics to expand and improve nursing practice. Furthermore, collaboration with international partners while conducting research can enhance the nursing faculties' ability to improve the quality of teaching nursing research.
Within the ProInCa project framework, Kazakhstani medical universities work closely with foreign universities in launching joint research projects, sharing best practices in research, and training research skills.
To support such collaborative research, a nursing research webinar series was implemented with lecturers from JAMK University of Applied Sciences: Hanna Hopia, Ph.D., Principal lecturer, and Sari Järvinen, Ph.D., Specialist, both from the School of Health and Social Studies. The webinars covered topics such as Nursing databases and scientific literature acquisition, Research design, Data collection, Data analyses, and Validity, reliability, and trustworthiness.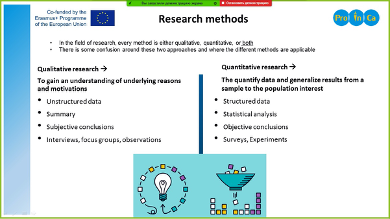 The participants were researchers, teachers of nursing, as well as master students of medical universities in Kazakhstan. During the webinars, participants were given the opportunity to analyze their current research and receive constructive feedback from the lecturers. They also gained information search skills with the CINAHL database. It is important to note that the researchers were given articles on nursing research for analysis and self-development of their future teaching materials. In total, 94 people attended the webinars during spring 2020.
Afterward, each participant who attended the webinars shared their good impressions on acquiring new information and knowledge about nursing research. For some participants, especially for master students in nursing, it was useful to familiarize them with the CINAHL database as it is not available in all Medical universities in Kazakhstan. The acquired knowledge and materials will help them to conduct their research. The participants gained skills in analyzing nursing articles and deepen their understanding of the methods and tools for conducting qualitative and quantitative studies. At the end of the webinar series, the participants requested additional materials for analysis and expressed their wish for further webinars. They were especially interested in taking a more in-depth look at descriptive quantitative data analysis and content analysis. This webinar series further emphasized the importance of nursing research.
In addition to this webinar series, Kazakhstani Medical universities are receiving coaching on their own joint nursing research projects that concern current clinical phenomena of nursing i.e., stroke rehabilitation, cardiovascular nursing, palliative nursing, nurses' diabetes type 2 knowledge, nurse's role in anticoagulant treatment. These research projects will be developed further, and international collaboration will be considered in the form of comparative studies. In the autumn of 2020, additional webinars supported by the European partners to enhance joint discussion on nursing research among the Medical universities in Kazakhstan will be hosted.